Modern Desks by Beyond Furniture
Beyond Furniture offers a modern range of home office desks. Our modern desks are available in a variety of designs, sizes and colours. A desk can be the centrepiece of the room, or even just a simple addition. Desks can be used almost anywhere throughout your home, whether you choose the study, a section from the living area, or even the bedroom. Our modern desks can also lift the décor of any room, as they are sleek and stylish.
Modern office desks for your home
Our urban and unique desk designs provide your home office with a modern yet classy look. Browse our desks online, as we have many desks to choose from. When choosing a desk always keep in mind features like the type, size, style and colour, as well as your price range.
Buy modern desks online
Our modern desks can be purchased through our online store. Browse through a range of styles, colours and designs to find the perfect desk for your home or office. We would love for you to come and visit our furniture stores in Sydney, where our lovely staff would advise you individually and help you select a desk to fit well within your current style. Our own professional team will deliver and assemble the desired furniture you require. We ensure that all of our customers are kept happy at all times. Delivery time is usually between 10 to 12 weeks.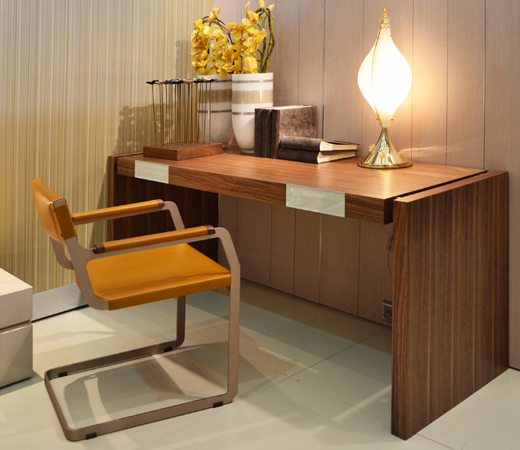 The Copenhagen desk by BoConcept is the complete solution for your home office. When sitting down in the office you need to be inspired to do the best work you possibly can. Offering a clean Scandinavian look, the Copenhagen desk creates a stylish and functional workspace for your home office. This Danish designed office system provides great comfort and support, while offering storage solutions for documents and folders to obtain a practical workspace. The Copenhagen office desk can be customised to suit your needs and requirements. Available in both matt white lacquered or oak veneer and matt ash grey, the ...
Read More
A true innovation in home office design, the Cupertino desk by BoConcept integrates workspace, storage and sound in beautiful, functional Scandinavian design. The Bluetooth enabled speakers offer a full Hi-Fi experience so you can use them as your home audio system. The storage compartments can also take control of all your wires and work essentials. The Cupertino desk is available in two sizes as well as a wall-mounted version. Choose from a variety of stunning colours including espresso oak vuneer, walnut vuneer, matt black, and matt white. A perfect addition to the Cupertino desk is the Adelaide chair by BoConcept ...
Read More
Showing all 3 results