Modern Wall Units by Beyond Furniture
Our sleek modern wall units utilize your living room space to the optimum and eliminate unsightly clutter. The use of fine and strong materials like sand blasted aluminium, and tempered glass permits flexibility in our shelving and wall units and a minimalist profile. A series of several space saving units in line blends unobtrusively into the architecture and becomes integral to it. Our wall unit furniture also includes home shelving options to create a greater living room design for your home, giving you the ultimate entertainment centre.
Style your living room with a wall unit from our modern collection
You should buy furniture that enhances your home, and our wall units for living room spaces are the ideal choice! We have everything from slimline and horizontal wall units to expansive and bold media storage furniture to suit your luxury living room furniture. Our entertainment units and bookcases are designed to match perfectly with our wall unit collection. Find modern furniture pieces in glossy white, dark grey and beige to complement your existing interior at our furniture store in Crows Nest, Moore Park and Alexandria. Wish to buy furniture online? All of our chest of drawers can be purchased either online or from one of our many furniture store locations.
When on the hunt for a wall unit, in order to keep the experience simple, be sure of what you need the unit for, where it needs to go and what needs to go into it. If you stick to your guns and keep a mental checklist of these requirements, you will be able to eliminate unsuitable options and find your perfect unit. We offer elegant media units and bookcases to give your living room the lift it deserves. We have the latest living furniture styles including wall mounted shelves and cabinets, modular units and display units. Check out our dining room furniture to modernise your living area. Did not find what you were looking for? We recommend you check out BoConcept's extensive range of modern wall units.
Visit our showrooms today and see for yourself why Beyond Furniture's wall units and shelving are so popular in households around Sydney!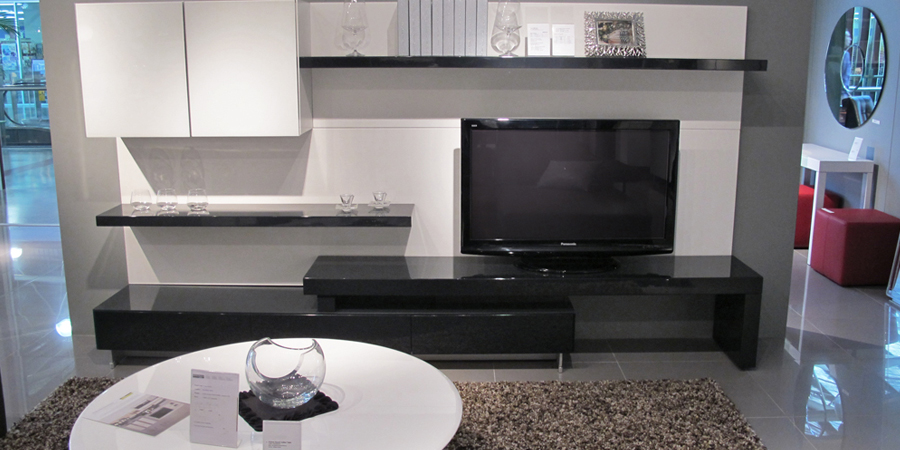 The New Copenhagen wall unit by BoConcept is truly a beautiful piece for any home. The Copenhagen can manage all your storage needs in a number of ways through its customisable option. Not only functional and flexible, the stunning Copenhagen bookcase is perfect for all kinds of storage. Choose from a range of colours and finishes and create your very own perfect wall unit from BoConcept. Sleek, stylish and versatile, the new Copenhagen bookcase has the ability to transform your house. More than just a shelving unit for books, the Copenhagen has specifically been designed to meet the needs of ...
Read More
The Lugano Wall Unit by BoConcept is made up of a huge variety of hanging cabinets, shelves and bookcase modules. Available in a range of finishes including white, walnut, espresso oak, copper and grey, finishes can be mixed to personalise your wall unit. Creating your dream custom wall unit is easy, simply pick the individual modules you want and use them together to create one big unit. Typical used for the Lugano include a custom entertainment unit, a wall mounted sideboard or console, wall mounted home office storage or wall mounted bedsides. In addition to the hanging options, legs and ...
Read More
Showing all 9 results