"The New Earthy Palette- It's all about Mustard Accents"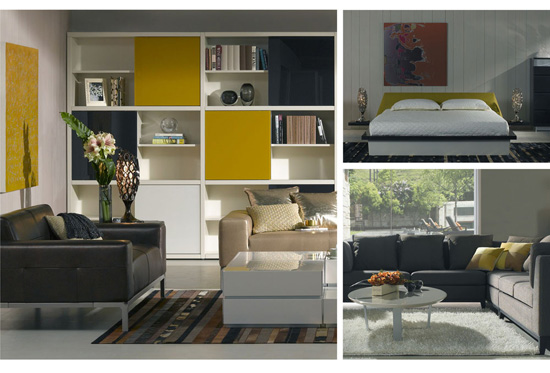 > Mustard Yellow & Ochre Tones: The Mustard yellow glass doors on the Bronte unit are a fantastic way to introduce the bold tone, the glass means that as various lights hit it throughout the day the tonality changes, giving it extra depth and a dynamic nature. You can look to introduce smaller Mustard elements in the way of cushions or a print on the wall.
> Grey Tones and Charcoal: From light grey through to very dark glossy charcoal, grey's are the perfect neutral, they are modern, yet practical and the perfect counter-balance to bold yellows. Look to bring in different shades of grey in different textures, use different sized weaves on the sofa, some ash grey timber veneer and glossy dark grey accents.
> Chocolate, Bronze & Beige tones: A selection of brown toned neutral pieces in different shades and different materials and textures will complement warm greys, whilst being practical, and liveable. The most important thing with brown tones is to avoid being too 'matchy/matchy', look for details; rugs with multiple tones, or textures throughout, such as the mosaic rug or the cowhide rug; and fabrics with a hint of silver and leathers with just the slightest shine to them, this will help keen brown modern. For wall units and furniture, beige colours will tone in with the overall look, without being dominating, and work best when contrasted with dark grey.