Now available in a beautiful walnut veneer, the Bronte is a simple and elegant bookcase which allows you to store and display all of your favourite personal effects. The Bronte provides media storage with a double width cavity option available to hold a TV, as well as sliding glass doors for concealed storage. All of within a small footprint, the Bronte creates maximum space for plenty of styling potential. With 7 different glass door colours and 3 different body finishes to choose from, you can mix and match to create a unique look suited to your style. Discover our top tips to accessorise the Bronte in both walnut veneer and white.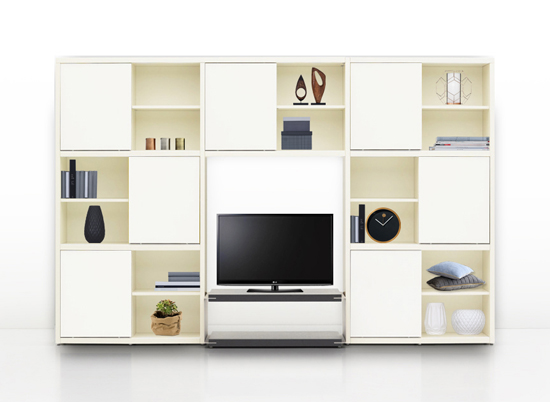 Consider colour: If you love the look of the walnut veneer Bronte with mustard and white sliding doors, make sure to stick to accessories in a monochrome colour palette for a stylised look that's not too busy. If you've opted for the simple white Bronte, choose one colour group and then slowly add neutral tones and metallic pieces for the wow factor. Here we've chosen cool blue tones with touches of copper to warm up the look.
Think oddly: For a balanced overall look, it's best to go asymmetric when you're filling your individual shelves. Mix up the placement of your books, shift objects to either the right or left and play with varying sizes and shapes. These simple rules will give you an interesting aesthetic that trumps the average bookcase scenario. Remember, it's the complete look that counts, make sure to take a step back and analyse the styling of the whole bookcase.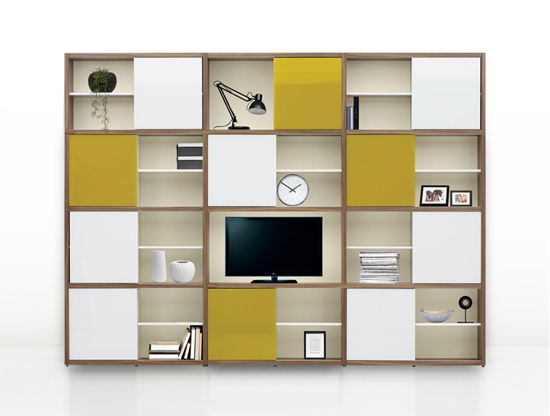 Allow Room to Breathe: Try not to overcrowd your bookcase, keep a shelf or two free to breathe and allow for plenty of space around objects.  Deliberate use of open space keeps the eclectic collection on this bookshelf from appearing too cluttered.
Mix up texture and materials: Make sure to collect things made of different materials so your bookcase stays interesting and personalised. Think wood, glass, ceramic, metallic. Perhaps even exotic pieces you've collected from your travels. Not only will this variety intrigue your guests, but it helps your eye travel around the bookcase.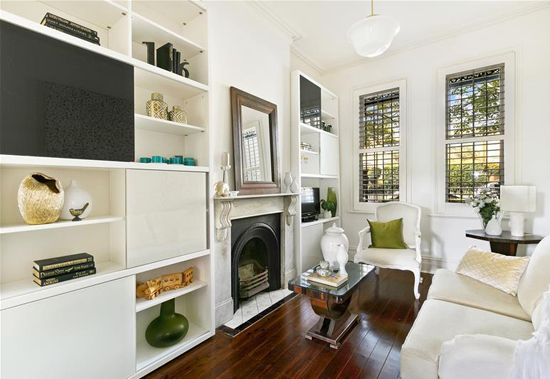 Here's a perfect example of how to style the Bronte bookcase. Used as a feature wall, the owner of this sophisticated terrace home in Paddington has coordinated the colours in this room perfectly. Mixing up gold, green, white and black, each shelf contains a different colour group which has been zigzagged across the bookcase for a balanced end result. Keeping the base of the room white, you can play with a variety of colours to add interest. If you're having difficulty picking a colour, opt for green and inject it into your space with some lush leafy plants.