"Create your perfect wall unit with endless options for all walls!"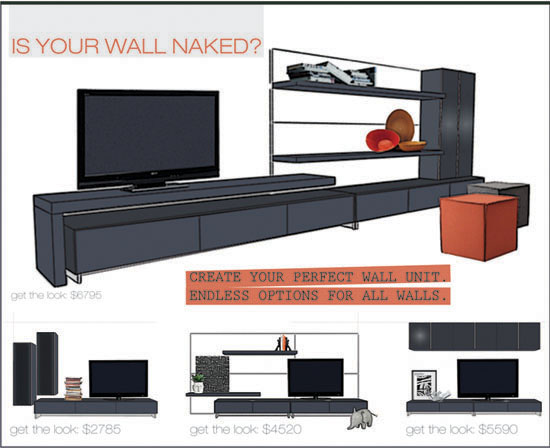 Modular wall units provide a vast number of design options and a multitude of storage and display solutions. The flexible nature of these units allow for personalisation and can even give an impression of a custom made wall unit as they can be tailored to the individual's wall dimensions.
This truly versatile wall display and storage solution is made possible by the components working as individual pieces and allowing freedom of choice when positioning them together to work as a whole with the other components. With the options of wall hung cabinets, floating shelves and backboards, TV benches, drawer units and many more components the looks and possibilities are endless.
When deciding what wall unit look will suit your wall consider the wall size, a longer wall will lend its self to a more horizontal look; to help the wall unit look not too heavy stick to lower units so as noy to not overpower the space. In regards to a shorter wall try to go for a higher, vertical design, this not only maximises the wall space but it also makes the smaller wall more of a feature.
If you are looking for some storage solutions the Viano & Genova wall hung cabinets are a simple yet effective way to add concealed storage and are also great to place opposite the TV to create balance within the overall wall unit. Be creative by hanging several Viano cabinets low on the wall, the fact that they are 'floating' will keep the wall looking light and they are great for DVD storage. The streamline Basso low line unit is also great for a bit of extra storage and teamed with the l-shape bench adds a modern look with a practical appeal.
Designing a wall unit that has open display is easily done with simple floating shelves or backboards with attached shelves; these give a great linear appearance and will keep the wall looking light and subtle.
Lastly choose your colour combinations to either create a stark contrast ie white and dark grey or use one lighter colour for the entire wall unit. If using just one colour add accent colours and style your wall unit through accessories, to see tips on styling go to our 'Style Your Wall Unit' page.
> How to plan your wall unit…
1.Download the PDF
2.Measure your wall
3.Bring a sketch in or call us and we can assist
4.Or if you would like further assistance our interior decorator service is available