"Using Colour to make modern sofas work for you"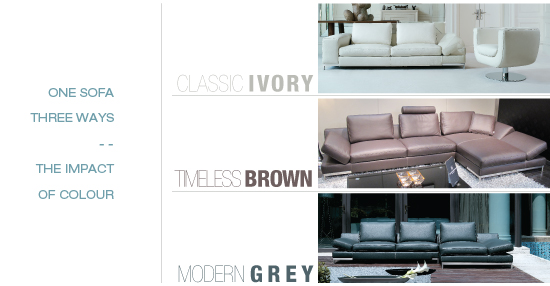 We can see from the image, that one sofa in 3 different colours gives us a totally different effect, so how do you know what to go for? Follow our guide below:

White: White leather is stark, and modern.  It is most suited to a home that features pure colours such as white, grey or brightly coloured walls (no off-whites or whites with a cream tone to them), and it will look lovely on a feature floor of honey hued polished timbers, concrete or dark tiles, avoid placing a white sofa on creamy coloured tiles, carpet or rustic styled timber floors.  White leather particularly suits spacious modern rooms such as open plan family rooms and airy beach or harbourside homes.

Ivory/Cream: A classic choice, perfect for those who want a light coloured sofa where white would be too stark.  Ivory tones will sit comfortably in most environments, you can match it to its surroundings for an elegant look, or compliment it with timber & brown tones.  Just be sure to get the right colour base, most Ivory or Creams will have either a yellow, pink or grey base, select one with the same base as the floor or wall colour you are matching it too.  Buying tones with a different colour base may cause one or the other to look 'dirty' or discoloured, even if its not.

Chocolate-Dark Brown Tones: The brown family is a classic in furnishings, and will remain that way as it is timeless, durable and easy to work with.  It's tough to go wrong with browns, you can mix various shades and it won't matter.  The only thing you need to consider is not to go too brown, if your staple pieces (sofa, dining table, TV unit etc) are brown look to break it up in places, a glass coffee table a simple patterned rug or a beautiful print to become the focal point.  Use rugs, cushions and accessories to lighten it up, even if they are simply just a wheat or light stone coloured tone. Chocolates tones will remain popular as it is easy to add to and complement down the track and they sit comfortably in both modern homes and Victorian or Deco styles common to Australia.

Grey's: Welcome back Grey! Grey disappeared for a while there, but its back in a big way.  Grey is a modern choice, suited to modern styled homes or rooms, but since it is more serviceable then white it is hugely popular with families.  Whilst it will create a modern appearance its easy to work with, it will sit comfortably amongst timber tones, browns, whites, blacks and other greys, it is popular for those who have had a modern renovation or extension, or for those who want a modern look, but also have more traditional elements in the room or in other furnishings.
Brights:
Red: red is a bold statement, be prepared if you go for red for your sofa to scream for attention in its environment.  It will dominate, so don't let other things compete with it, red it best in a very paired back room, with a simple monochromatic colour scheme around it.  Red is popular as an accent colour, a red armchair, cushions and artworks will make a bold statement, and may be easier to work with then bright red sofas.
Orange: incredibly, orange can work as a neutral, even the bright tangerine tones are surprisingly easy to work with, orange goes with everything (although avoid too much brown, shagpile rugs and laminate designs- unless that's the look you are going for), make it a bold statement by leaving everything else in the room plain, or work it in with other bright tones such as turquoise for a colourful vibe.  Work orange into rooms with orangey tones in timber, stone or metals such as copper, and it will sit beautifully, especially when complemented by charcoals and navies and other rich jewel tones.
Mustard Yellow: This very 'now' colour is also easy to work with, more often seen in textiles rather then leather, this vibrant hue packs a punch, but will sit comfortably in most settings, providing a colourful accent. It works particularly well alongside shades of grey for a modern, yet colourful look.

Black: As with anything, black is classic, timeless and always chic.  In the sofa world, a black leather sofa tends to lend itself a modern look, best suited to a room with clear lines, and a well defined look, it is also commonly associated with waiting rooms and bachelor pads, mainly as black tends to appeal more to males. However, just like a little black dress, a black sofa is a classic choice, it won't date and it looks more 'dressy' then its casual counterparts brown or white.  It's suited to formal rooms and elegant settings.
> We have a choice of over 30 leather colours, and 3 leather varieties, drop into a store to see samples.