"Top Tips for Sofa Shopping"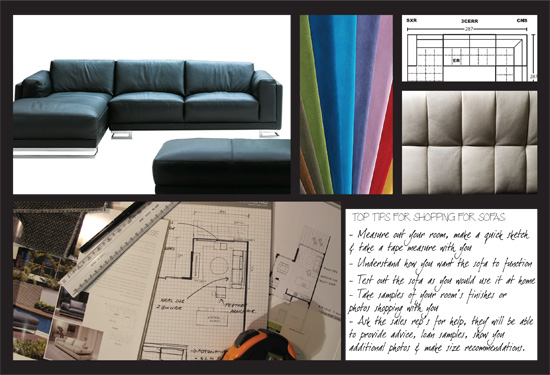 It can be a bit daunting searching for the right sofa to suit your lifestyle and space. There are so many colours, materials and styles to choose from, not to mention the various levels of quality and pricing. Here are a few tips to take the stress out of the process of buying your new sofa.
1. SIZE & PROPORTIONS
It is crucial that you measure your space and work out the ideal size that your sofa needs to be. Think about how many people you need to seat regularly and where the best placement in the room would be (keeping in mind doorways and other furniture pieces). It's a great idea to measure your current sofa to get an idea or alternatively, measure out on the ground with masking tape or newspaper different sizes. This will help you visualise the item in the room and how you move around it. Secondly, even though it may fit within your required space the overall proportion will impact the look within the room. A sofa with chunkier or heavier overall proportions, like the Fiori will appear larger in the room (great if you have the space), whilst a sofa that is raised from the floor and has slim arms and seat proportions will appear lighter and visually consume less space, check out the Olvia if this is what you are after. Use this to your advantage, look for heavier styles if you are looking to fill a large room and vice versa, and be aware of the impact the showroom has on the look of the sofa; in general, showrooms will be very open with high ceilings making all sofas look smaller than they are.
2. LOOKS & COMFORT
You may come across the 'perfect' sofa – the one you've been searching for – but if it is not comfortable, you will wish you went for something cosier. Although it may look great, is it deep enough if you're tall or too deep so your feet can't touch the floor? Is it too firm or so soft that you have trouble getting up? If you like to lie down on your sofa, are the arms at a comfortable height? Think about your requirements for the sofa prior to purchasing, if it is for use in the television room or multi-purpose space, look for something that is comfortable and flexible for the family like the Dese. Also think about durability; if people are going to have their feet on the sofa or it is high use, for a formal living room the look of the sofa will have greater importance so select something that is comfortable but maintains its great look like the Pradi-2.
3. CONFIGURATION & STYLE
The style of your sofa should complement the style of your house and your existing furniture. It should also function in a way that suits your lifestyle and functions for you. Buying a low-line, sleek sofa like the Arsizio, looks great in the showroom amongst contemporary furniture and is great if you have a modern home. But if you really prefer a comfy, cushioned seat that you can sink into and will suit you and your home, check out the Pradi-1. For configurations, will a simple 2 or 3 seater work in your space or can it take a larger corner or chaise lounge? Do you move house regularly? Chaise lounges are a great solution for many modern apartments, but if you move around a lot, the chaise is fixed on that side, so it may not work in your next home, a 3 seater & an ottoman would be a better choice. Or do you have an unusual space that requires a unique shaped sofa like the Rusco? It's best to decide before hitting the shops and narrow down the search. In most cases, every sofa design is available in a range of various sizes and configurations to suit your needs.
4. COLOUR & MATERIAL
One main decision is whether you are going to go for a leather or a fabric sofa. A few questions to ask yourself are; how much use will this sofa get? What kind of area is it in and therefore what kind of spills is it going to be prone to? If it is a high-use area, leather is durable, easy to clean and non- absorbent for spills and smells. With professional help, minor tears or scratches can be repaired with great results. Fabric, on the other hand, takes a bit more maintenance. It can be protected with a Scotchgard to protect from spills and can be vacuumed to keep clean. If you have small children and it is going to be used in a busy area, consider a darker colour to hide some of the sins and keep your sofa looking pristine for longer. It is generally best to select a neutral colour for your sofa then add colour in the way of cushions, rugs and throws like the Rimini sofa. The sofa will be the biggest piece of furniture in the room and can overwhelm everything else if it is a bold colour or print. If you would really like a feature piece in a bright colour, look to get an ottoman, feature chair or recliner like our Preci, then have some co-ordinating cushions on the sofa to tie the look together.
5. QUALITY & LONGEVITY
When you buy a sofa, you expect it to last a number of years. In order for this to happen, you must make sure you are purchasing a good quality product. This will also save you money in the long run as you won't need to replace parts or the whole sofa. Don't be afraid to ask questions about a sofa's quality when shopping. Make sure every part of it (internal and external) has a warranty and that there are no shortcuts such as real leather on the seats but artificial leather on the back of the sofa. If they are taking shortcuts on the outside, you don't know what shortcuts they've taken on the inside.
QUICK TIPS FOR SOFA SHOPPING:
> Know the sort of use the sofa will receive, now and in the future.
> Measure out the space and write your ideal dimensions down, take a tape measure shopping with you.
> Know the style you are looking for and what will work with your current furniture
> Take samples of the wall/floor colours if you have them, or take some photos with your phone and take them along so you can refer to them whilst looking at colour samples.
> Expect that the shop most likely will not have your perfect size or colour on display, it is not possible to display everything in all the different colours. Do however ask if they have any photos of a sofa in your preferred colour, or size, often stores will keep a database of photos from previous orders.
> Test out the sofa properly, many people sit on the sofa and judge it from that, but is that how you sit at home? If you mostly lie down, then lie down, the sofas are there to be tested so don't feel like you can't lie down or kick your feet up!
> The sales assistants can be fantastic resources, often they may have design backgrounds, and at the very least they have sold & seen many sofas, they can recommend styles, colours and sizes for you.