Modern Dining Chairs by Beyond Furniture
Explore a wide range of modern dining chairs at Beyond Furniture. Whether enjoying dinner with the family or entertaining friends, with Beyond Furniture's dining chairs you will be sitting in elegance. Our modern dining chairs are an imaginative blending of function and fashionable design. From comfortable leather and fabric upholstered chairs to state-of-the-art plywood dining chairs, you will be amazed by such a huge range. We also have a large contemporary dining room furniture collection that will definitely suit your requirements.
Choose from leather or fabric dining chairs
Depending on your needs, a dining chair has a multitude of purposes. A leather dining chair is a good option, as they're very comfortable, meaning your guests can enjoy the luxury of sitting and talking for hours without getting a sore back. Our fabric dining chairs offer similar comfort, though are  If you're dining room is a part of a kitchen, your dining room chairs probably get a lot of action. Check out our large range of contemporary dining chairs online; they're all highly durable meaning you can get many years of use out of your modern dining chair.
Buy modern dining chairs online
Our dining chairs can be purchased through our online store. We would love for you to come and visit one of our furniture stores in Sydney, where our lovely staff would advise you individually and help you find the ideal dining chairs to coordinate perfectly with your dining table. Our own professional team will deliver and assemble the dining chairs for you, hassle free. We ensure that all of our customers are kept satisfied. Delivery time is usually between 10 to 12 weeks.
Looking to customise your own dining chairs set? Check out our associated brand BoConcept's range of Danish style dining chairs and customise your own modern dining chairs set.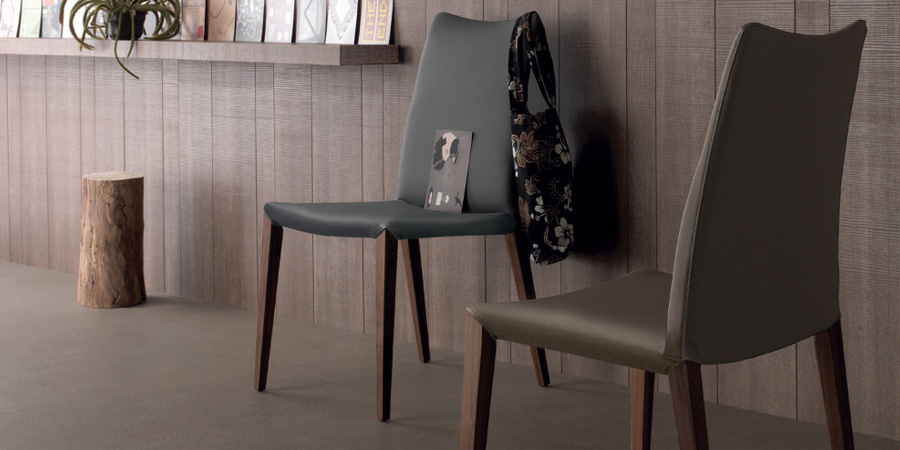 Looking for a modern dining chair that stands out and keeps you comfortably seated through even the longest of dinner parties? The Mariposa dining chair might very well be the answer to your prayers. With a contemporary design and a curved seat for added comfort, Mariposa not only looks great, it feels great. The Deluxe model's dynamic leg design allows you to move your legs freely while opening up the look and accentuating the modern design. The Mariposa dining chairs can be customised to your own personal taste and style. Choose from many different fabric and leathers, beautiul colours, and ...
Read More
The Zarra Dining Chair has become a bit of a classic design icon at BoConcept with it's distinct pointed leaf shape back. The beautiful curvatures of this design, especially when set at a table as a group exude that wow factor in any dining space. The other thing to note about the Zarra is just how comfortable it is, with plenty of cushioning and support for the back. So, whether you use it to work from home, or want to enjoy a lazy lunch outside for a few hours, the Zarra is an excellent choice. The Zarra dining chairs are ...
Read More
Showing all 29 results